Fashion has always been different and dynamic. Never stagnant, always re-inventing. However we have seen some crazy moments when its come to the runway. Be it outrageous or super lovable, we've almost seen it all, and there's more to come. With artists like Lady Gaga and Rihanna experimenting with the most extreme types of attire and looks, we do have celebs like K-Stew who sometimes wear disastrous outfits. But at the end it all adds up to the Fashion scene making the best and worst and giving scope for invention.
In this post, I basically want to show you'll some of the most creepy and distinct fashion that I've come across. I will be giving my feedback about the fashion and what you have to do is this. In the comment section at the end of the post, write the name of each look and write: Creepy, So-So or Fabulous according to what you feel about the look.


Disclaimer: All opinions are mine, no offence to any designer or model or anyone whatsoever.
None of the images are mine. Sources: Getty Images and Google Images
1. Cards on clothes
Let me warn you. This dress showcased at the 'Ashish Show' during the London Fashion Week Spring/Summer 2009 was weird. In fact the day I saw it I went: HAW? I mean, who would wear this? Maybe someone would. But let me tell you, this is one of the most subtle dresses out of all that are yet to come. In fact its pretty normal compared to the rest.
Rating: So- So
2. Breakfast on the Runway
This look by Agatha Ruiz De La Prada is nothing but weird. The headband is probably a piece of load and the dress is a table mat with eggs on it? Really? What was the designer thinking? While people may say it is really bold, I think it is outrageously annoying. In fact I couldn't even look at it after a while. I actually like the hair and makeup but so not digging the breakfast on clothes look.
Rating: Creepy
3. Marilyn Inspired Tangerine
While we all the the famous Marilyn Monroe fluttering dress story, this dress was probably inspired by it.
Seen at the Agatha Ruiz De La Prada show at Madrid Fashion Week in 2009, it was called Anti Gravity.
While I'm completely loving the earrings and the sunglasses, I totally detest the dress. Maybe something a little more different probably?
Rating: Creepy
4. Over the Hat
This look spotted at the Viaduct Harbour Village Marine show during the Air NZ Fashion week has blown me away. With being absolutely WEIRD.
Rating: Creepy
5. MJ is here
Jean-Charles de Castelbajac displayed this in their collection during Fall 2009. Much creepy 3D?
Rating: Creepy
6. Celebrities take the name
Some of the weird looks contributed by celebrities. Some celebs like Lady Gaga, Rihanna, Katy Perry, Nicki Minaj like experimenting and they actually have stepped out for major events in some of the weirdest dresses of all time. Here's a recap of some of the most controversial.
Grammy 2012:
Sasha Gradiva's pink gown would have otherwise been bearable if it wasnt for the machine gun arm piece that's just creepy and attention seeking.
Bonnie McKee actually carried the colour off well, however there's something weird about the dress.
Nicki Minaj wore this custom made Versace and reminded everyone of Gaga. I have nothing to say about this outfit.
Fergie's see through Gaultier was the most talked about with hi-5s and low-5s. I personally loved the colour, hated the dress.
Robyn wore this mullet keeping trends in mind however I don't like how she wore it. On the other hand, stunner shoes.
Rating: Creepy
7. Lady Gaga
When someone says weird and fashion, anyone automatically connects Gaga to it and she'll probably love them for it. So here's some of Gaga's craziest and funkiest looks ever.
She wore this look at the VMAs and honestly it reminds me of a bird's nest. I think it is OTT and maybe the cuffs are brilliant but the head gear is a no no
Rating: Creepy
She wore this Red outfit to the VMA too as one of her changes. I love the head gear actually, but why cover her face?
Rating: Creepy
Now this look is absolutely beautiful. I think the whole structure defines her body very well, the shoulders look fab. Also the hair is brilliant. And the black nail colour. But the shades look like the ones people wear after cataract. However we can ignore that right?
Rating: Fabulous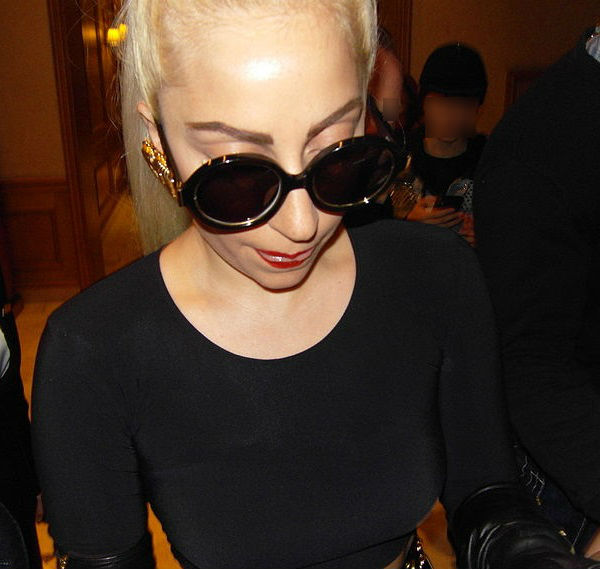 This next outfit is something only she would be able to carry off. In fact I can't imagine anyone else looking good in it. I love the bow hair and how she's kept it relatively simple. One of her sanest outfits. Brilliance in black.
I can't look at this next outfit. Really can't. Its disgusting me already. Seriously? I have nothing to say. Except I will have nightmares tonight.
Rating: Creepy
That was a summary of some weird outfits that we have seen all over the place. But I think if I was to do all of them it'll take me an entire blog to do it. So I'll stop here.
But remember, I'd love to know what you thought of each outfit, after all we all are different.
Be back soon with more.
Love,
Sonshu
P.S: THANKS FOR THE BRILLIANT COMMENTS on the previous post: The Sacred Letter. Will be replying to them soon.
P.P.S: Thanks for your kind wishes for the results, I am overwhelmed and really happy that I got distinction. :) Thanks to everyone for being so supportive.
P.P.P.S: Outfit post coming soon.
Sorry for the plenty after post messages, just that I wanted the post to be all about the topic.
Love again.