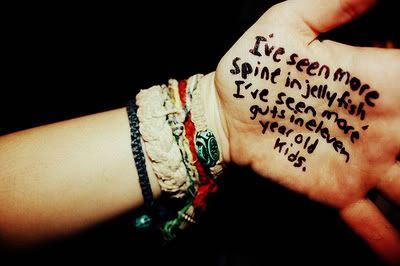 I'll be going to junior college in a few days. And i've waited for college ever since. Its been a dream. And besides now that I'm in my dream college its even more happening. but you know you get that feeling when your starting something new? A feeling of how its going to be. A feeling of scary-ness. A feeling of being lost. A feeling of having to make new friends. A feeling of having to choose the right people. And people say college is where you make the most important life changing decisions, that makes it all the more tough for anyone.
And I've decided. I'm gonna let go of myself. I'm not gonna hold back. I'm gonna give my heart more freedom to make some decisions. And I'm gonna let my brain agree with my heart. My brain and heart have to come to conclusions. I have to be doing things which are going to be good for me and will make me happy. And they've already begun. Co-operating. My brain used to tell me do science, do science [Just like everyone else around]. Because I'm supposedly brainy enough and really capable of science. But my heart kept saying, arts is what you like, you like creativity, you dont like just sticking to books, you like to go further. So I've taken arts. My brain and heart eventually agreed. And they'll have to now, more often.
Life is gonna change. Everything is. New friends. New people. New teachers. New place. New Campus.
And as you might already know, I hate changes. Takes me hell lot of time to give in to changes. I suck at accepting that things can't ever remain the same. They have to change.
Love
Sonshu <3
P.S: I meant in the title. We're back to ranting. I mean me. Back to ranting as usual! :P LOL.