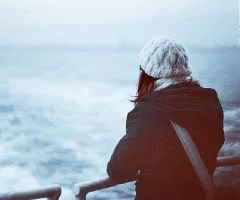 So today i visited the bookstore [my favorite place on earth.] And yeah i was randomly picking up books and walking to the sofa to sit and read them. And after about an hour and a half i decided on Cecelia Ahern's "Where Rainbows End". Now why am i telling you all this? Lets see.
Flashback:
So i was sitting on the couch and reading a random book i picked up and this guy walked into the store. He looked about 20 something! I guess. And he had this really cute face. [Eye candy] Yeah, and I decided not to care and continued reading. I so didnt want to end up staring at him. Bleh! Haha. So yeah i innocently continued reading. And i felt something looking at me. Yeah, seriously, you can sense when someone is looking at you.
So i looked up and happened to see that guy looking at me. Oh wait, looking isnt the right word, its more of staring. *blush* and then i continued reading. And i was kinda disliking the book honestly, i couldn't even concentrate, all i was thinking about was, is he still staring? yeah!
And then I walked to place the book back on the shelf. And went to the "Indian Fiction" corner. And i was browsing to see if anything interested me! And i wasnt in a mood for any of those books so i walked back to the couch and decided to start "Where Rainbows End" before buying it! And i was reading..when this guy walked up to me. And he was like "Hey!" and i was like "Ermm..hey!"
I couldnt believe he was talking to me. And then this is how the conversation went.
Him: Hmmm...so wassup?
Me: Nothing really, just reading! haha
Him: Ermm..So do you know where i can buy guitars anywhere here?
Me: Ermm..not really, i mean there probably must be a few shops close by but im not aware! Sorry!
Him: oh that okay, And do you know anywhere close by where they coach?
Me: yeah, further down, there's this place called "PlaceX" where they do have guitar coaching
Him: Oh lovely, thanks! I actually wanted to buy a guitar today. I thought you get them here!
Me: Ermm...okay! Oh, you dont! :)
Him: Hmm...So whats your name?
Me: Er...Sonaksha
Him: Oh, im Sahil
Me: oh, cool, Nice to meet ya!
Him: yeah, totally. Btw, may i say you look gorgeous. The colour black compliments your fair complexion extremely well. I couldn't stop staring at you. Your extremely pretty!
Me: *Blushes* Oh...errmmm...Thanks a ton! [yeah i was wearing a black tee and jeans!]
Him: Errr...yeah!
Me: Hmmmm....
He: *kept staring at me*
Me: Ermm..Okie, cya later, gotta go! I've been here already for about more than an hour!
Him: oh, okaaay.. *has the disappointed look on the face*, catch you some other time.
Me: Yeah, tada!
Him: Yeah, where?
Me: Where, what?
Him: Where'll i see ya?
Me: I dunno!
Him: Ermmm....okay!
Me: Yeah!
Him: *Gazes at me lovingly as i walk away*
Me: *Feels shy about the whole thing*
And as i walk out of the store, i see him staring at me. And i walked on the road waiting for an auto. And i saw him gaze at me till when he could. Not that *dirty* kinda gaze, but that *loving, friendly* gaze. Maybe not friendly but yeah! So well hmmm...today was an experience of a lifetime! :) Interesting. Very Interesting! Maybe, I might meet him again, Maybe i won't. Haha. Lets see. Im gonna call him the "BookShopCutie"

Love
Sonshu
<3